Welcome to Lyme Connection
Lyme Connection represents patients, family members, practitioners, researchers and community members committed to ending the suffering caused by tick-borne diseases. We educate the community about prevention and early diagnosis and support patients.
Our goal is to connect patients with compassionate care, helpful services and fellow patients. We offer the encouragement and validation needed to make it through what is often a daunting challenge. Come join us.
Lyme Connection December Newsletter Features Interview With Jenny Rush
Lyme Connection newsletter editor Janet Jemmott had the pleasure of joining Jenny Rush for one of her recent Lyme Thriving retreats in Maine. To read her interview with Jenny, click HERE.  The next Lyme Thriving Lyme and Chronic Illness Retreat will be held at Wisdom House in Litchfield, CT from May 4 through May 6, 2018. This is a relaxed multi-day retreat for anyone dealing with chronic illness. For details, click HERE.
Wellness Event to Support Lyme Connection
Saturday, April 22, 2017 4:00 pm - 7:00 pm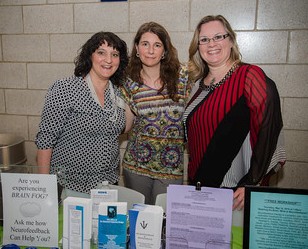 Location:
898 Ethan Allen Hwy., Ste. 6, Ridgefield, CT 06877
Description:
FREE Wellness Event
Come and sample services from our 360° Reboot Program providers.
This is also an opportunity to donate to and learn more about Lyme Connection.
Sign up for:

Neurofeedback - Dr. Roseann & Associates

Bio-Regulation Therapy- Dr. Roseann & Associates

EFT/Tapping - Dr. Roseann & Associates - Lauren Wolfe

Reflexolgy - Pippa Martin

Cranio Sacral Therapy - Oestopathic Wellness - Dr. Dave Johnston

Reiki - Amy Fernandez

Massage - Medicinal Skin - Holly Arrindell

Nutrition/Tea - Cucumber and Chamomile - Meredith Mulhearn

Naturopathic Care - Dr. Deb Bossio

COST: FREE - Donation suggested to Lyme Connection
RSVP: RSVP to pre-register for your FREE service (this will fill up!)
DATE: Saturday, April 22nd
TIME: 4:00 - 7:00 pm
Posted on 12/18/2017
Return To List