Welcome to Lyme Connection
Lyme Connection represents patients, family members, practitioners, researchers and community members committed to ending the suffering caused by tick-borne diseases. We educate the community about prevention and early diagnosis and support patients.
Our goal is to connect patients with compassionate care, helpful services and fellow patients. We offer the encouragement and validation needed to make it through what is often a daunting challenge. Come join us.
Pro Golfer Jimmy Walker and Wife Erin Advocate for Lyme Awareness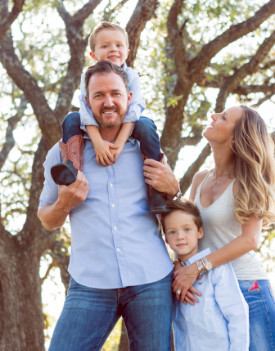 PGA TOUR player and major winner Jimmy Walker has turned the corner in his battle against Lyme disease. Unfortunately, his wife's Erin's battle is just beginning. Erin tells the story of her family's ongoing Lyme disease struggles in heartfelt posts on her blog-- tourwifetravels. The couple is pictured with their sons McLain and Beckett.
Thursday, July 13, 2017 5:00 pm - 7:00 pm
Location:
Lyme Connection Offices, Town Hall Annex, 66 Prospect St., Ridgefield
Description:
Support group for Lyme disease patients and their families.

This is an open format support group. The goal is to generate supportive, positive energy between members, share information and experiences, and ask questions. There may be occasions that are topic focused with the theme coming from members' suggestions.

Special topics, guest speakers and holiday/ weather cancellations are posted on our website. We follow the Ridgefield school schedule during inclement weather. Groups are always cancelled when school and/or after school activities are cancelled.


Posted on 01/18/2018
Return To List