Welcome to Lyme Connection
Lyme Connection represents patients, family members, practitioners, researchers and community members committed to ending the suffering caused by tick-borne diseases. We educate the community about prevention and early diagnosis and support patients.
Our goal is to connect patients with compassionate care, helpful services and fellow patients. We offer the encouragement and validation needed to make it through what is often a daunting challenge. Come join us.
Lyme Connection Kicks Off Campaign: Little Tick, Big Problem --All Year!
Lyme Connection's new billboard campaign debuted this month, with two high-traffic locations selected for the kickoff -- White Street in Danbury, CT and 6 West in Newtown, CT. We want community members to know that ticks are a health concern all year 'round and that Lyme Connection is a resource they can turn to for education, resources and support.
We've gotten terrific feedback. Let us know if you see the boards and what you think!
---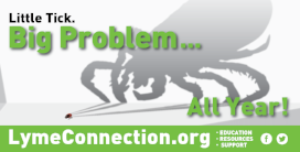 Columbia University/LDA - 18th Annual Lyme CME Conference
Saturday, September 23, 2017 8:00 am - Sunday, September 24, 2017 3:00 pm
Location:
Hilton Penns Landing, Philadelphia, PA
Description:
Lyme & Other Tick-Borne Diseases:
What Clinicians Need to Know about an Expanding Epidemic

This conference is designed for medical & health professionals & researchers. The conference is also open for the general public to register. Adults only.
Posted on 11/18/2017
Return To List