Professional Education
Professional Conferences
Lyme Connection is especially proud of the relationship we have fostered with medical and mental health practitioners, researchers, health directors, educators and ancillary professionals. We are always looking for opportunities to build on the body of knowledge that improves illness prevention, diagnosis and patient care.  The Lyme Connection annual professional conferences explore one timely topic in depth.
---
Infectious Causes of Mental Illness: The Impact of Infections on the Brain
A Conference for Mental Health and Other Health Care Professionals
Friday, October 21, 2016
8:30 a.m. - 3:30 p.m.
The Leir Retreat Center, Ridgefield, CT 
Registration Required- Click HERE for form

Join us for Lyme Connection's 5th annual conference for mental health professionals on Friday, October 21st, at the beautiful Leir Retreat Center. Learn how infectious diseases can impact brain function, emotion, and behavior. Tick- borne infections such as Lyme disease, Bartonella, Babesia, and Strep infections will be among the infectious agents discussed with a focus on behavioral and emotional dysregulation, and neurocognitive impairments. Speakers will discuss mechanisms of brain infections, including the role of psychoimmunology, symptom presentation, and diagnostic and treatment considerations for mental health practitioners.

There is no charge for this full-day event thanks to the generous support of the Leir Charitable Foundations, the Leir Retreat Center, and the Lyme Disease Association, Inc.
Due to limited seating, registration is required.
Registration will start at 8:30 am; presentation will start promptly at 9 am. 
Breakfast and lunch will be provided.

Speakers:
Kenneth B. Liegner, MD           Robert C. Bransfield, MD
Judith G. Leventhal, PhD         Sheila M. Statlender, PhD
Charles Ray Jones, MD            Sandy Berenbaum, LCSW, BCD

This conference is for mental health and other healthcare professionals only. 
To register, email your registration form to Karen Gaudian at RLDTF@comcast.net or fax it to Karen at 203.431.2311.
Due to limited seating, registration is based on a first come, first served basis.
For additional questions, please email Karen at RLDTF@comcast.net.
Feel free to share this information with your professional colleagues.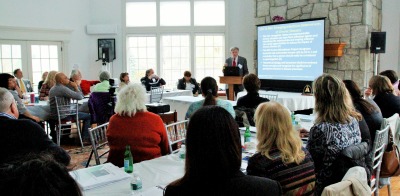 Psychiatrist Dr. Robert Bransfield Speaking at the 2014 Lyme Connection Mental Health Conference at Leir Retreat House