Publications & Resources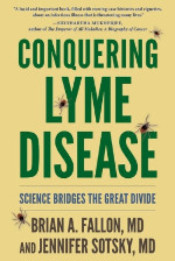 Conquering Lyme Disease: Science Bridges the Great Divide
Brian A. Fallon, MD, and Jennifer Sotsky, MD
Columbia University Press          Click HERE to order.
In this authoritative book, the Columbia University Medical Center physicians Brian A. Fallon and Jennifer Sotsky explain that, despite the vexing "Lyme Wars," there is cause for both doctors and patients to be optimistic. The past decade's advances in precision medicine and biotechnology are reshaping our understanding of Lyme disease and accelerating the discovery of new tools to diagnose and treat it, such that the great divide previously separating medical communities is now being bridged. Drawing on both extensive clinical experience and cutting-edge research, Fallon, Sotsky, and their colleagues present these paradigm-shifting breakthroughs in language accessible to both sides. They clearly explain the immunologic, infectious, and neurologic basis of chronic symptoms, the cognitive and psychological impact of the disease, as well as current and emerging diagnostic tests, treatments, and prevention strategies. Written for the educated patient and health care provider seeking to learn more, Conquering Lyme Disease gives an up-to-the-minute overview of the science that is transforming the way we address this complex illness. It argues forcefully that the expanding plague of Lyme and other tick-borne diseases can be confronted successfully and may soon even be reversed.
Brian A. Fallon, MD, is director of the Lyme and Tick-Borne Diseases Research Center at the Columbia University Medical Center.
Jennifer Sotsky, MD, is a physician with a specialty in narrative medicine. She is a resident at Columbia University Medical Center.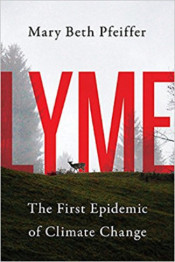 Reserve your copy now for April 2018 release. Click HERE.
Lyme: The First Epidemic of Climate Change Hardcover – April 17, 2018
by Mary Beth Pfeiffer
Lyme disease is spreading rapidly around the globe as ticks move into places they could not survive before. The first epidemic to emerge in the era of climate change, the disease infects half a million people in the US and Europe each year, and untold multitudes in Canada, China, Russia, and Australia.Mary Beth Pfeiffer shows how we have contributed to this growing menace, and how modern medicine has underestimated its danger. She tells the heart-rending stories of families destroyed by a single tick bite, of children disabled, and of one woman's tragic choice after an exhaustive search for a cure. Pfeiffer also warns of the emergence of other tick-borne illnesses that make Lyme more difficult to treat and pose their own grave risks. Lyme is an impeccably researched account of an enigmatic disease, making a powerful case for action to fight ticks, heal patients, and recognize humanity's role in a modern scourge. Formerly an investigative reporter with the Poughkeepsie Journal, Pfeiffer received Lyme Connection's first "Courage in Journalism" Award for her groundbreaking articles exposing the inequities in tickborne illness  treatment, research and funding. .
Books for Children