BLAST Prevention Program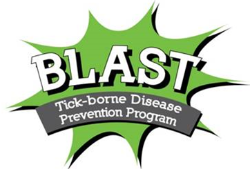 Lyme Connection's tick-borne disease prevention efforts focus on the BLAST Tick-borne Disease Prevention Program. This nationally recognized educational effort was created by the Ridgefield Health Department in 2008.The program is based on peridomestic Lyme disease prevention research conducted in Connecticut. The BLAST acronym – Bathe after outdoor activity, Look for Ticks and rashes, Apply repellent, Spray the yard and Treat pets - highlights five key evidence-based steps that may reduce the risk of tick-borne illnesses.
Offered free at health fairs, schools and community events, the program engages health professionals and trained educators to teach prevention and early symptom identification. Click HERE to learn more about the BLAST prevention program.
---
BLAST Social Media Campaign
Click on each graphic to see enlarged version.
---
Commonly Asked Questions:
What method is recommended for removing ticks?
The CDC recommends using fine-tipped tweezers to grasp the tick as close to the skin's surface as possible.
Pull upward with steady, even pressure. Don't twist or jerk the tick; this can cause the mouth-parts to break off and remain in the skin. If this happens, remove the mouth-parts with tweezers. If you are unable to remove the mouth easily with clean tweezers, leave it alone and let the skin heal.
After removing the tick, thoroughly clean the bite area and your hands with rubbing alcohol, an iodine scrub, or soap and water.
Dispose of a live tick by submersing it in alcohol, placing it in a sealed bag/container, wrapping it tightly in tape, or flushing it down the toilet. Never crush a tick with your fingers.
  Avoid folklore remedies such as "painting" the tick with nail polish or petroleum jelly, or using heat to make the tick detach from the skin. Your goal is to remove the tick as quickly as possible--not waiting for it to detach.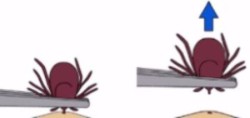 Where should I send a tick for testing?
Most health departments in Connecticut will submit engorged blacklegged (deer) ticks removed from residents to The Connecticut Agricultural Experiment Station (CAES) for free testing. Ticks are analyzed for the presence of Lyme disease, anaplasmosis, and Babesiosis. Response times vary based on the volume of ticks submitted at certain times of year. Some health departments charge a small processing fee. If your health department does not participate, residents may submit ticks directly by downloading the forms online. Note that CAES will only test blacklegged ticks that have ingested human blood. There are other labs that will test ticks removed from pets or that have not ingested blood. Options include:
Connecticut Veterinary Medical Diagnostic Laboratory
What should I do with a tick I find crawling?
Dispose of a live tick by submersing it in alcohol, placing it in a sealed bag/container, wrapping it tightly in tape, or flushing it down the toilet. Never crush a tick with your fingers.
Which repellents are recommended to deter ticks?
The Environmental Working Group (EWG) has tip sheets based on their extensive research. Click HERE.  A new EWG guide this year focuses specifically on the Zika virus. Click HERE. 
The Environmental Protection Agency (EPA) has created a repellent search tool that guides you to products based on insect, protection time and active ingredient. Click HERE. EPA top tips for using these products safely are listed HERE. 
Top tips include:
Always read and follow label directions
Apply repellents only to exposed skin and/or clothing. Do not use under clothing.
Do not apply near eyes and mouth, and apply sparingly around ears.
Never use repellents over cuts, wounds, or irritated skin.
Do not spray in enclosed areas.
Do not allow children to handle this product, and do not apply to children's hands. When using on children, apply to your own hands and then put it on the child.
After returning indoors, wash your child''s treated skin and clothes with soap and water or bathe.
According to the label, oil of lemon eucalyptus products should not be used on children under the age of three. Other ingredients do not have an age restriction.
Will washing kill ticks on clothing?
The CDC has just completed a study to determine the optimal drying times and washing temperatures to kill ticks. Dry clothes should be spun in high heat for 6 minutes, wet clothes for 50. Water temperature ≥54 °C (≥130 °F) is optimal to kill ticks.Read the study results HERE.
---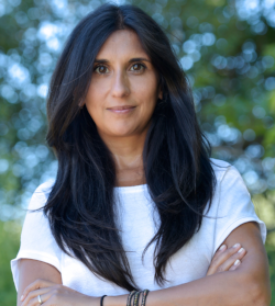 Dr. Neeta Connally
BLAST Prevention Program Scientific Advisor  Dr. Neeta Connally recently spoke with Lyme Connection newsletter editor Janet Jemmott about current research and best practices for avoiding illness. Click HERE to read the complete interview. Dr. Connally is an associate professor of biological and environmental sciences at Western Connecticut State University. She recently received an estimated $1.6 million grant from the Centers for Disease Control (CDC) for tick research. It is the largest research grant in the university's history. Read more about the WEstern CT State University Tickborne Disease Lab HERE.
Have more questions about ticks?  
The Connecticut Agricultural Experiment Station's Tick Management Handbook is an integrated guide for homeowners, pest control operators, and public health officials for the prevention of tick-associated disease. You'll find everything you need to know about personal and yard protection. Click HERE to read the recently revised edition.
BLAST In The News
The BLAST program is staffed by trained volunteer educators. If you are interested in teaching your community about preventing tick-borne diseases, please consider volunteering. If you would like to invite us to your health fair or schedule a BLAST program for your school, company or community organization, please contact:
Jennifer Reid, Director
BLAST Tickborne Disease Prevention Program
Ridgefield Health Dept., 66 Prospect St., Town Hall Annex, Ridgefield, CT 06877
203-431-7006 (o)   Office hours by appointment
blastlyme@ridgefieldct.org     www.Blastlyme.org