Sponsors and Supporters
Thank you to our generous donors.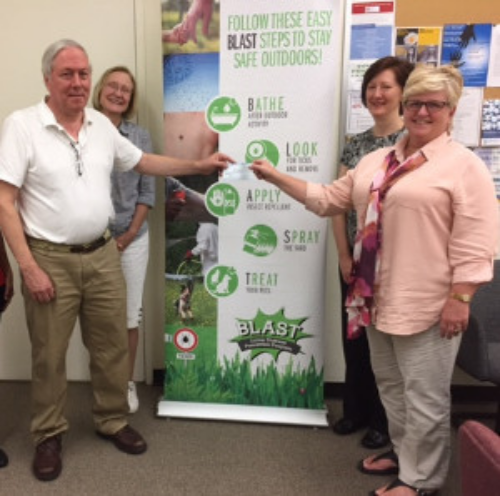 The Rotary Club of Ridgefield awarded Lyme Connection a $500 grant at the group's September meeting. The check was presented by club member Dr. Cliff Heidinger to Lyme Connection Chair Karen Gaudian. Lyme Connection members Paul Curry and Nancy White-Olay (l. to r. ) are also pictured.
---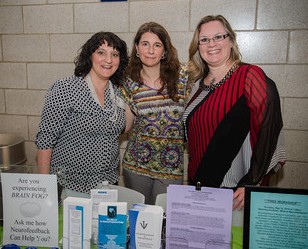 Educational Psychologist Dr. Roseann Capanna-Hodge and her husband Chris turned their 20th Anniversary Party last summer into a friends-and-family Lyme Connection fundraiser. In lieu of gifts, the generous couple asked all attending to make a donation to our charity. Her wonderful guests donated over $1,200. This year, Chris presented us with a $500. donation from his employer, Eaton Corp., and Roseann turned her "Wellness Fair" in to another successful Lyme Connection event. Dr. Roseann oftens speaks at our family-focused seminars and serves on our advisory board. She and her team of therapists, school advocates and neurofeedback technicians offer support to children and adults stricken with tick-borne diseases and PANS/PANDAS every day. Pictured l. to r. are Dr. Roseann, School Psychologist Kristie Liotta and Office Manager Michele Cousens at our May patient conference at WestConn. 
---
Heartfelt thanks to JoyRide Ridgefield owners Corey Londoner and Amy Pal, their terrific staff and the many wonderful "Lyme riders"  who showed up on Friday evening, November 14 to support the cause. Over $2,000 was raised to support the BLAST Lyme Disease Prevention Program and "Lowdown on Lyme" educational series. Volunteers Rachel Volpone and Scott Davis donated four of Rachel's beautiful paintings and treated guests to complimentary wine, champagne and desserts provided by FLIK International.