Welcome to Lyme Connection
Lyme Connection represents patients, family members, practitioners, researchers and community members committed to ending the suffering caused by tick-borne diseases. We educate the community about prevention and early diagnosis and support patients.
Our goal is to connect patients with compassionate care, helpful services and fellow patients. We offer the encouragement and validation needed to make it through what is often a daunting challenge. Come join us.
Sixth Annual Professional Conference for Mental Health Practitioners
Physicians, naturopaths and mental health practitioners gathered at the Leir Retreat Center on October 13 to hear the latest information about mental health and tick-borne diseases. Thank you to the day's speakers and event sponsors-- the Leir Foundation and IGeneX Inc.-- for making this professional conference possible.
Pictured ( l. to r.) are Lyme Connection Chair Karen Gaudian, Dr. Elena Frid, Dr. Sheila Statlander, Dr. Robert Bransfield, Dr. Kenneth Liegner and Dr. Sheila Statlander.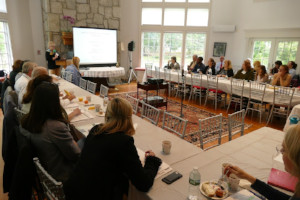 COMING EVENTS ...
WCSU and BLAST Program Awarded $25,000 Community Education Grant
Western Connecticut State University and the town of Ridgefield's Health Department are building upon a long-standing community partnership to reduce the incidence of Lyme and other tick-borne diseases with a new $25,000 grant from the Environmental Protection Agency. The WCSU-Ridgefield Health Department collaboration was one of 11 projects selected from 70 submissions.
The project, "Spray Safe, Play Safe" will provide community education about chemical spraying for tick management. The educational materials will include videos, a public event and a homeowner decision-making tool explaining safe and judicious use of pesticides as part of an effective integrated tick management approach.
In the News...