Welcome to Lyme Connection
Lyme Connection represents patients, family members, practitioners, researchers and community members committed to ending the suffering caused by tick-borne diseases. We educate the community about prevention and early diagnosis and support patients.
Our goal is to connect patients with compassionate care, helpful services and fellow patients. We offer the encouragement and validation needed to make it through what is often a daunting challenge.
Come join us.
Lyme Connection Receives Grant to Help Patients with Medical Bills
Lyme Connection is honored to be the recipients of a $15,000 grant from The Community Foundation for Greater New Haven to assist patients with medical bills. This gift, generously donated in honor of beloved nurse and Lyme patient Betsey White, will be used to assist Connecticut residents in need of financial aid in the diagnosis and treatment of Lyme and other tick-borne diseases from doctors following the International Lyme and Associated Diseases Society (ILADS) guidelines. An application form and guideline are available HERE.
 "Honoring and acting on donor intent is an important part of The Community Foundation's stewardship role," says Tricia Caldwell, Director of Communications for The Community Foundation for Greater New Haven. "Betsey White lived with Lyme disease, educating herself about it and offering support and encouragement to others who were similarly dealing with its debilitating effects. In keeping with her wishes, individuals dealing with Lyme and other tick-borne diseases will forever be supported through the fund she established by bequest."
Click HERE to read the announcement press release.
Ridgefield Library Event Features Portraits of Ten Lyme Patients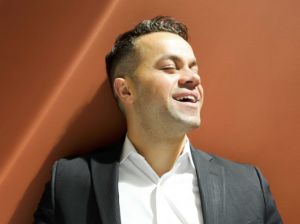 Daniel Pereira is a featured patient
Daniel Pereira was photographed by NYC photographer Amanda Crommet as part of a series of former and current Ridgefield Lyme patients. "For several years, I lost part of who I was. I couldn't be myself. I couldn't understand why I felt the way that I did, and that's why I was so determined to get rid of it. I had to fight to get myself back. It was tough. But I did it. And today I'm good. I feel good. I think this is behind me," says Mr. Pereira. The exhibit, sponsored by the Berisford family, opened at the Ridgefield Library on Wednesday, May 25th and runs through June 30.  
Thursday, July 14, 2016 5:00 pm - 7:00 pm

Thursday, August 11, 2016 5:00 pm - 7:00 pm
Help us show how Lyme impacts the community. Take our survey HERE.
Lyme Connection, together with research partner SmartRevenue and Western Connecticut Health Network, is conducting a survey to improve Lyme disease prevention efforts. The survey does not require individuals to provide personally identifiable information, and all responses are kept strictly confidential. Our goal is to show the serious impact tick-borne diseases are having on residents and demonstrate to state leaders why prevention funding is essential. Residents of all states are invited to participate. 
 
---
In the News...