Welcome to Lyme Connection
Lyme Connection represents patients, family members, practitioners, researchers and community members committed to ending the suffering caused by tick-borne diseases. We educate the community about prevention and early diagnosis and support patients.
Our goal is to connect patients with compassionate care, helpful services and fellow patients. We offer the encouragement and validation needed to make it through what is often a daunting challenge.
Come join us.
---
Rep Courtney Praises Bill with Lyme Disease Provisions
A bill that provides new funding for opioid addiction treatment, changes federal policy related to Lyme disease and other tick-borne illnesses and fosters an increase in the number of pediatric psychiatrists nationwide passed the House of Representatives on Wednesday. Rep. Joe Courtney, D-2nd District, praised the measure, called the 21st Century Cures Act, calling these provisions top priorities for eastern Connecticut.
"Lyme disease, which is named after a town in my district, has long plagued eastern Connecticut and large swaths of our country," Courtney said. "It is time that Congress makes addressing tick-borne diseases a national priority for our medical community. The provisions contained in the 21st Century Cures Act will accelerate the development of new protocols for prevention, diagnosis, and treatment of tick-related illnesses like Lyme disease." Read the full story HERE.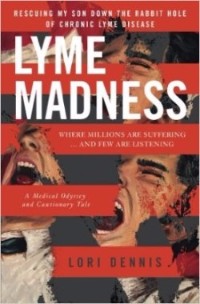 Congratulations to Lori Dennis on the publication of her book, Lyme Madness: Rescuing My Son Down The Rabbit Hole of Chronic Lyme Disease . This new offering chronicles the author's and her adult son's medical odyssey and provides a platform for the many voices of chronic Lyme sufferers and their loved ones. Now available on Amazon.
Lyme Connection Support Groups are canceled when Ridgefield Schools or after-school activities are canceled due to inclement weather. Click HERE for website.
   Lyme Connection Adds Second
   Monthly Evening Support Group 
Lyme Connection is now hosting a second evening support group for tick-borne disease patients and their families. Join us on the second and fourth Thursdays of each month from 5 to 7 p.m. in Ridgefield's Town Hall Annex. Check our calendar for location, holiday cancellations and additional details. Meetings are free, drop in and open to all. The focus is on connection, sharing and support.
In the News...
Posted on 01/10/2017

Posted on 01/05/2017

Posted on 12/07/2016