About our BLAST program.
---
The BLAST acronym stands for:
Bathe within two hours of outdoor activity

Look for ticks and rashes daily

Apply repellents to skin and clothing

Spray the yard and maintain a tick-safe landscape 

Treat pets with veterinarian recommended products
These points highlight the most effective evidence- based recommendations for avoiding tick attachments and potential tickborne diseases. The program is based on peridomestic Lyme disease prevention research conducted in Connecticut.
---
We're especially proud of our social media campaigns.
Many of our social media campaigns were created in partnership with Discovery Communications. Lyme Connection was honored to be selected for their Creating Change program in 2016.
---
---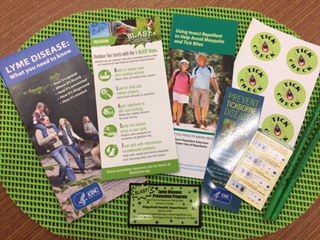 BLAST educational materials available HERE include:
age appropriate power points
downloadable recorded presentation
rack cards
social media graphics
health fair banner
---
Do you have a tick-safe yard? Take a look at our videos to learn what the latest science is saying.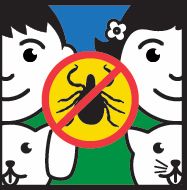 Lyme Connection is pleased to introduce the "Spray Safe, Play Safe: Tick Control Gets Reel" film series, five videos focused on backyard tickborne disease prevention. The project was funded by a Healthy Communities Grant from the US EPA and created by the Tickborne Disease Prevention Laboratory at Western Connecticut State University and the  BLAST Tickborne Disease Prevention Program. The project goal is to provide science-based educational materials for families living in tick-endemic areas to help them make informed decisions about dealing with backyard ticks.

Scientists and health educators are frequently asked about pesticides as a means of tick control.  We know that sometimes even the most well-intentioned people can misuse or overuse pesticides, or use ineffective products. posing a risk to themselves, their families, and the environment. Using a pesticide may be one tool that families can choose for managing backyard ticks, but the decision to apply a pesticide should be made only after carefully considering what active ingredients are effective for controlling ticks, how to safely apply pesticides, and when and where to apply them for maximum effect with minimal non-target effects. Navigating through all the pesticide information out there can be tricky.