Welcome to Lyme Connection
Lyme Connection represents patients, family members, practitioners, researchers and community members committed to ending the suffering caused by tick-borne diseases. We educate the community about prevention and early diagnosis and support patients.
Our goal is to connect patients with compassionate care, helpful services and fellow patients. We offer the encouragement and validation needed to make it through what is often a daunting challenge. Come join us.
Lyme Connection Kicks Off Campaign: Little Tick, Big Problem --All Year!
Lyme Connection's new billboard campaign debuted this month, with two high-traffic locations selected for the kickoff -- White Street in Danbury, CT and 6 West in Newtown, CT. We want community members to know that ticks are a health concern all year 'round and that Lyme Connection is a resource they can turn to for education, resources and support.
We've gotten terrific feedback. Let us know if you see the boards and what you think!
---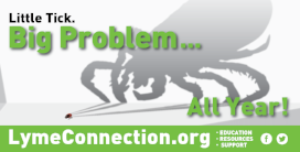 COMING EVENTS ...
Did you know that US Military uniforms are factory treated with permethrin to keep the troops safe from ticks?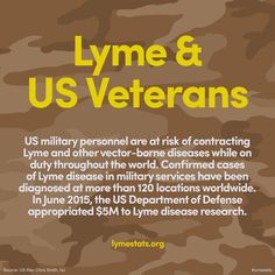 WCSU and BLAST Program Awarded $25,000 Community Education Grant
Western Connecticut State University and the town of Ridgefield's Health Department are building upon a long-standing community partnership to reduce the incidence of Lyme and other tick-borne diseases with a new $25,000 grant from the Environmental Protection Agency. The WCSU-Ridgefield Health Department collaboration was one of 11 projects selected from 70 submissions.
The project, "Spray Safe, Play Safe" will provide community education about chemical spraying for tick management. The educational materials will include videos, a public event and a homeowner decision-making tool explaining safe and judicious use of pesticides as part of an effective integrated tick management approach.
Pictured l. to r. Ridgefield Health Department Director Ed Briggs; Jennifer Reid, BLAST Tickborne Disease Prevention Program Director; Dr. Neeta Connally, associate professor and director of the WCSU Tickborne Disease Prevention Laboratory; and Dr. Rayda Krell, research study coordinator for the WCSU Tickborne Disease Prevention Laboratory.
In the News...