Welcome to Lyme Connection
Lyme Connection represents patients, family members, practitioners, researchers and community members committed to ending the suffering caused by tick-borne diseases. We educate the community about prevention and early diagnosis and support patients.
Our goal is to connect patients with compassionate care, helpful services and fellow patients. We offer the encouragement and validation needed to make it through what is often a daunting challenge.
Come join us.
Free Holistic Health Seminars at WCSU
---
The Institute for Holistic Health Studies has renewed its focus on promoting the health and well being of the community with  by hosting a series of new  "Wellness Wednesday Workshops" to take place on the Midtown campus beginning Wednesday, Feb. 14, 2018. The workshops, free of charge and open to the public, will be at 12:30 p.m. on Wednesdays in Room 127 of White Hall on the university's Midtown campus, 181 White St. in Danbury. The series will include information on "busting" health myths, traditional Chinese medicine and the medicinal benefits of tea. Check the schedule HERE.
Support Group Weather Cancellations
Support group meetings are cancelled whenever Ridgefield schools are closed due to inclement weather. Groups are also cancelled when schools close early and after school activities are cancelled. Click HERE for current school information.
2018 Funds Available for Patients in Need
Tick-borne disease patients  seeking financial help to cover medical costs may be eligible for Lyme Connection's assistance program. Applicants must be Connecticut residents in the care of an International Lyme and Associated Diseases Society (ILADS) physician. Check HERE for details and an application.
COMING EVENTS ...
Thursday, March 8, 2018 5:00 pm - 7:00 pm

Thursday, March 22, 2018 5:00 pm - 7:00 pm
             Save The Date
12th Annual Lyme Connection
Patient Seminar and Health Fair
    Thursday evening, May 17
   Western CT State University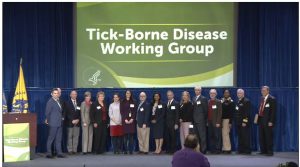 The Department of Health and Human Services announced the names of 53 individuals selected to serve on six subcommittees of the Tick-Borne Disease (TBD) Working Group. These subcommittees were established by the Working Group members to assist them in identifying and reviewing information that provides the background, context, and evidence needed to develop the report to Congress and the HHS Secretary as required by the 21st Century Cures Act.  Click HERE for details about upcoming meetings.
In the News...
Posted on 02/12/2018

Posted on 02/07/2018